Giant Pecan Tree Still Going Strong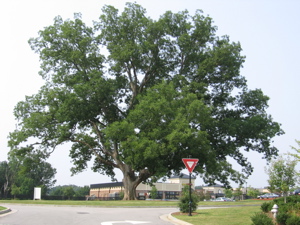 Mulberry Park residents and shoppers are treated daily to the grandeur of a landmark tree, a 54" diameter Pecan tree located at the entrance to the live/work community. Mulberry Park is a new multi-use development outside of
Braselton, GA
. The tree was saved during construction of the site in 2003 and 2004, when the new community was transformed from farmland. The tree used to be hidden next to an abandoned barn, struggling among thick undergrowth and rampant-grown swamp privet. Early in the project stages,
Sivica Communities
hired tree preservation expert,
Jesse Milton
, to join the team dedicated to saving this unique tree.
The tree was given plenty of room for its roots to remain protected. Milton worked closely with the landscape architect, Hughes Good O'Leary and Ryan, to design a drainage system under the proposed road that would assure that the Pecan didn't drown. A lightning protection system was even installed in the tree canopy.
Three and a half years later, the tree is still very much alive and thriving. The site, just 1.5 miles north of
Chateau Elan
, is easily recognized by the tree presence at the back of the retail area of Mulberry Park. This Pecan's 100-foot wide canopy and massive trunk provide a striking monument at the entrance to the residential areas, and serves as a testament to the benefits of teamwork during tree preservation.