Georgia Pecan trees to excel this year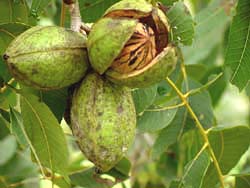 Even though Georgia suffered a late freeze and a record drought in 2007, the state's Pecan trees are set to produce one of the best crops of nuts in recent history. The UGA Cooperative extension service estimates that our beloved
Carya illinoensis
will provide 90 million to 95 million pounds of pecans this season.
Earlier this year, many Pecans in the central and eastern part of the state sustained damage from the frost, but apparently most trees recovered and have set a bumper crop of nuts. Growers estimate that the 2007 crop will be double that of last year's pitiful crop, which was one of the state's lowest in pecan production.
The current drought conditions are damaging; but have had an unexpected consequence: the drought has kept
insects
and diseases from ruining the Pecan nuts.
Aphids
,
mites
, and
scab
are common pests of Pecan trees. In addition, farmers have had the rare option of spraying less chemical controls such as insecticides and fungicides. In some cases, farmers have sprayed half as much pesticides as they usually do.